I hope everyone had a wonderful Thanksgiving! We had a pretty full house, as we hosted some of the guys from Matt's command who stayed in town for the holiday. Their assistance has helped us not have two weeks worth of leftovers to plow through, thank goodness. All of the turkey is actually used up already, as I turned it into one of the best gumbos ever, using
this recipe
. It was seriously awesome, full credit going to the creator of the recipe since I pretty much added nothing extra except a little sprinkle of Tony Chachere's creole seasoning.
It feels like this has been said a lot lately: we didn't do too much this week. Again, I'm thankful for the head start we got in the summer. On the other hand, it seems that most school systems are now off for the whole week of Thanksgiving, so I shouldn't feel so bad. Where was this philosophy when I was in school?
What we did this week:
Henry
Saxon Math 1: Lessons 65-66 (writing the number 59, winter; writing the number 60, writing money amounts using the cent symbol, paying for items using dimes and pennies)
The Ordinary Parent's Guide to Teaching Reading: Lessons 116-117 (the vowel pair AW as /

ô/; the vowel pair AU as /

ô/

)
Zaner-Bloser Handwriting 1: Pages 1-20 (review, vertical lines, horizontal lines, backward circle lines)
Spelling Workout A: Lessons 1-4 (sounds and letters A-N; sounds and letters O-Z; beginning sounds and letters)
The tersa sphinx moth caterpillar is still eating and eating... and eating. The monarch butterfly chrysalises are starting to show some of the adult coloration inside. I think they should emerge this week.
Oliver
Ollie had a good week in therapy. Nothing really new to report, but he's doing well.
Jane
All of a sudden, Jane's vocabulary has exploded. Crazy exploded. She's picking up new words right and left, using complete sentences, etc. Now, if only she could enunciate well. If you're not listening carefully, it all sounds like gibberish. Once you focus, though, it's fairly easy to understand what she's saying. When we clarify her sentences, she's able to repeat them back with much better form, so we'll continue modeling for her and hope that her speech improves naturally. Our pediatrician once said that Henry's speech issues had more to do with the complexity of what he was saying than anything else. I think Jane is going to be the same way.
Peter
Peter is quite the happy baby, especially when he can play with his feet. He's almost rolling all the way over now; it will probably be any day.
And now...
ONE WEEK UNTIL ADVENT!
Okay, pull up a chair. Here's our plan for this year:
ADVENT CALENDAR
I ordered
this advent calendar
about a month or so ago. It's pretty big. They're not kidding when they say it's a jumbo calendar. Our mail carrier did her very best to cram it into our mailbox, despite the fact that it was shipped with a stiff piece of cardboard in the package. And despite the fact that the majority of it was hanging out of the mailbox because it's about twice as large as the mailbox. And despite the fact that the mailer had "DO NOT FOLD" stamped all over it.
Sigh.
So, it's been pressed under canned goods for a couple of weeks to get the big fold out and is now hanging up in the storeroom until it takes its place of honor over our little Advent table.
JESSE TREE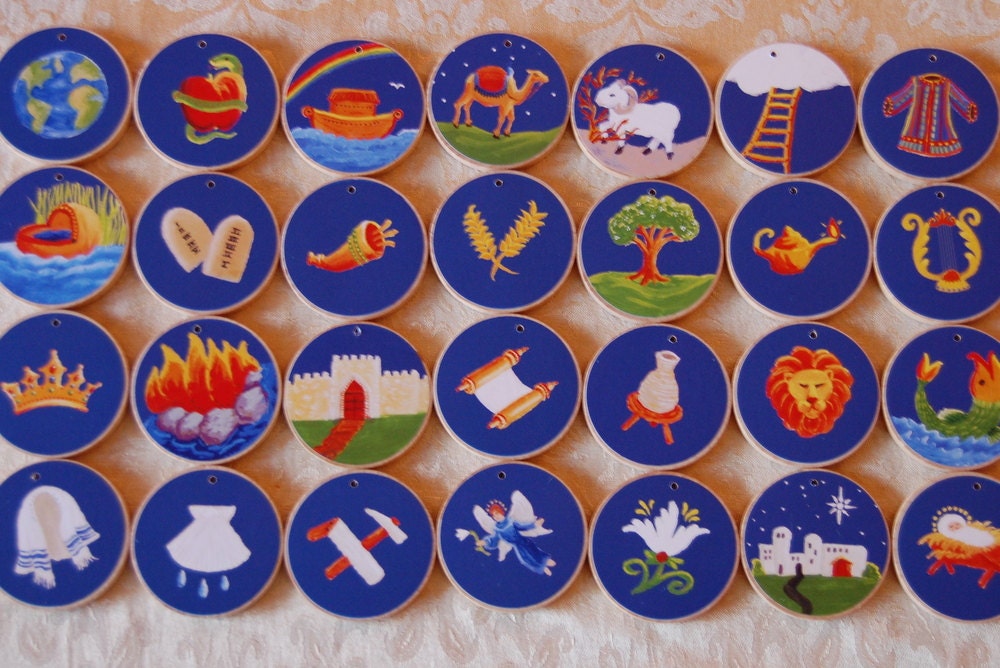 Last year, we printed out ornaments from the
Diocese of Erie
. They were lovely, but I really wanted to get something more permanent, ones that we could use every year. So, I turned to Etsy and I found a marvelous little Catholic shop called
Jesse Tree Treasures
. (For the record, I will probably be buying everything she makes eventually.) I snapped up a set of her Jesse Tree ornaments and I am so happy that I did because they are truly beautiful and will be enjoyed for years to come.
The set comes with ivory cord for stringing and cards that have the scripture reference and devotion for each day. There are 28 ornaments in all. Since we have such a short Advent season this year (only 23 days), I'll have to pick five ornaments to stay in the box. Sniff, sniff.
O ANTIPHONS
From the same Etsy store, I also got a set of ornaments for the
O Antiphons
. Jesse Tree Treasures doesn't seem to have them in stock right now, but I'm hoping they continue making them. They are beautiful and I love that they have the scripture reference and meaning right on the backs. It certainly makes it easier for our little ceremony to have everything self-contained.
ADVENT WREATH
Or plaque. I'm never sure what to call our little candle holder.
The important thing is that I already have the pink and purple candles, so we're ready to go. We're really going to reinforce the purple and pink this year with some additional Advent "wreaths." On the 1st, the day before Advent begins, we're going to make a countdown paper chain from purple and pink construction paper. Our other big thing is that we're going to make our house an Advent wreath! We have four upstairs windows that face the street, all in a row. I got three strands of purple lights and one strand of pink. Each Sunday, we'll light the appropriate windows. We may get some funny looks over our "Christmas" decorations, but it's the
New Evangelization
, baby!
FEAST DAYS
The feast days we're planning on celebrating this year are:
December 5th/6th - St. Nicholas Eve and Day: The kids will write/draw their Christmas lists, tuck them in their shoes at the foot of their beds, and get their chocolate gold coins in the morning.
December 8th - Solemnity of the Immaculate Conception of the Blessed Virgin Mary: Coloring sheets and a family rosary
December 12th - Feast of Our Lady of Guadalupe: We're going to have a fiesta! Mexican food and sweets and a pinata for the kiddos. I'm definitely getting
this book
to read. It's a pop up!
MISCELLANY
I'm happy to say that I beat my First Sunday of Advent deadline for Christmas shopping again this year. Other than a few things that need to be ordered and shipped directly to out-of-town family, our Angel Tree child, and sending out cards, all of our gifts are already in St. Nicholas's safekeeping.
I dread the day when "beans" is no longer an acceptable answer to the question of, "Mommy, what's in that box?"